Adventure Island Water Park Tickets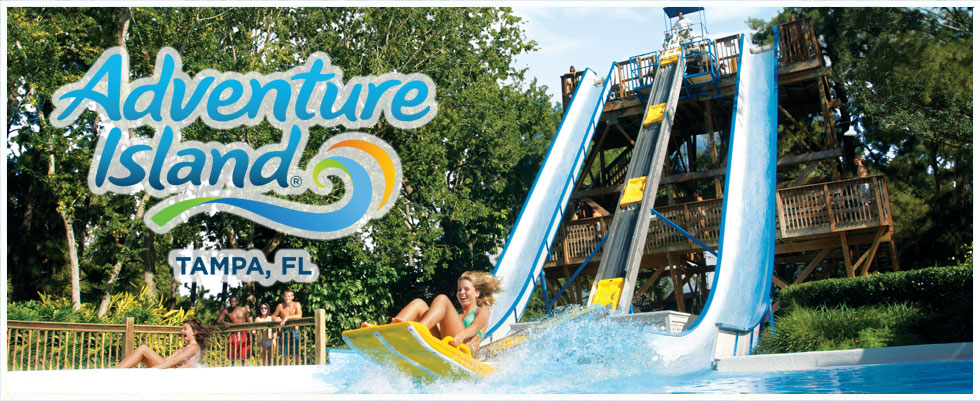 Adventure Island offers 30-acres of uniquely wet experience nestled in the middle of the West Keys. As the Jewel of Busch Gardens, Adventure Island features high speed water slides, lazy rivers, crystal clean lagoons, sandy beaches, relaxing cabanas, and 5-foot high wave pool.
Adventure Island doesn't stray far from it's larger park, you will experience the same amount of thrills from Adventure Island than you would from Busch Gardens or any other theme parks. There is plenty to do at Adventure Island no matter how old you are, you can play in one of the many kid sections or you can eat in any of the themed restaurants that are in the park, if you're the adventure seeker of the group you can go on one of the many individual rides or if you are traveling with a bunch of thrill seekers then you all can ride on the many group rides as well! The rides at Adventure Island have quickly been ranked among the top rides in water parks around the United states so don't hesitate, see what all the buzz is about!
If you are looking for a great place to sit back and relax then Adventure Island is the spot for you, there is plenty of areas that accommodate anyone in the family and no matter who you are it's a sure thing that you'll have a ton of fun while at Adventure Island. Most people purchase the combo ticket that way they can enjoy all of the rides at Busch Gardens and cool down in the water or the shade at Adventure Island! We have great deals on both tickets!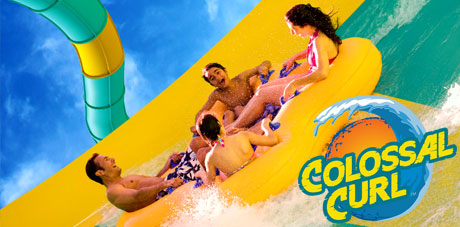 Colossal Curl
Experience a feeling of weightlessness as you're hurtled high above Adventure Island Tampa Water Park aboard the newest mega slide: The Colossal Curl. Holding up to 4 people, this new thrill slide will get the adrenaline-pumping in the whole family for an incredible water-drenched adventure!
Everglides
Hop on a floating toboggan and hold on for a thrill as you pick speed going down a 72 foot watery incline. Hydroplane for an additional 20 yards before the ride comes to an end.
Key West Rapids
As Adventure Islands signature water slide, brave the pulse-pounding Key West Rapids as you tower down the nearly six water-fueled stories. The Key West Rapids experience offers room for your companion to hang on for your life as you plunge down the rapids. Imagine more than 700 feet of twists and gushers.
Riptide – Four-Lane Mat Slide
On your mark, get set go – shouts riders as they race to the bottom of the signature attraction, Riptide. This adrenaline-pumping attraction features a 55-ft drop inside your own transparent tube. Race other competitors through hairpin turns, twists and turns, as each open lane immerses riders into a drenching experience.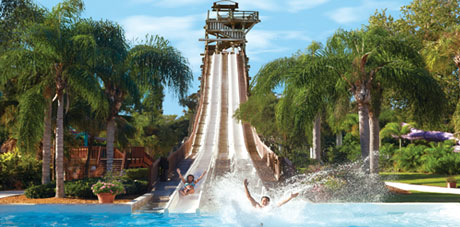 Gulf Scream
Dare to plunge down the 210-foot Gulf Scream slides as you ramp up to top speeds of 25 mph. Get set ready go! Pair up with a partner for the race of your life as you swish down this monstrous water slide. Make a big cool splash at the bottom and claim victory!
Aruba Tuba
Step aboard this one-of-a-kind thrill ride that drops you down a sheer slide. Take a partner on Aruba Tuba and get whisked through a twisting slide. This adrenaline-pumping ride will stress your senses to the limit. Guaranteed to leave you breathless as you twist and turn with a huge splash finally.
Calypso Coaster
Move to the sounds of Calypso music either solo or paired up with a friend in dueling flumes Dare to board this out-of-control coaster that zooms down a sharp slippery slope. Race dueling tubes and enjoy a major soaking on the Calypso Coaster ride spilling out into the Rambling Bayou River.
Caribbean Corkscrew
Hold onto for your life as you twirl and turn through dueling flumes to a soaking end.. Compete with partner on this radical corkscrew ride swirling riders for 230-feet. Zoom down these intertwined translucent tubes with increasing speed. Finish in a wet 47-foot decelerator lane.