Orlando Attraction Tickets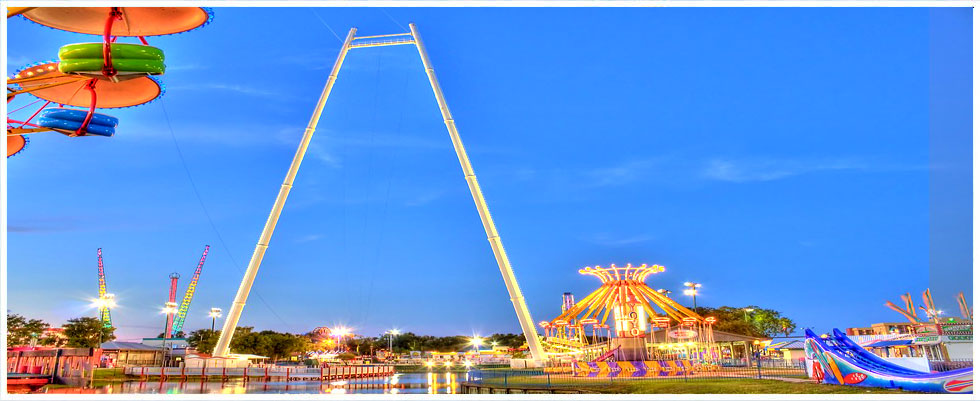 Orlando isn't just Disney and Universal. There are plenty of lower cost attractions in the area that are fun and can fill up your day with excitement. Whether it's riding on an airboat thru the headwaters of the Florida everglades, visiting the upside building of Wonderworks, or watching the Gatorland Gator jumparoo show; we have tickets to all of the Orlando area attractions that you're craving.
Kennedy Space Center
Kennedy Space Center is an electrifying attraction in Cocoa Beach, Florida which houses the greatest collection of aerospace and space travel memorabilia as well as some interesting sights for those who love NASA and the history of our space program. Here guests will have the honor of learning in depth information on these wonders of outer space including the vehicles used, the preparations for the operations they went on, and even the personnel's thoughts and discoveries made along the way. Kennedy Space Center is definitely one amazing place to bring the family for a day of discovery and learning. There is no shortage of interesting equipment and memorabilia to see when visiting the Kennedy Space Center. Guests may even be in town to watch a rocket launch or even a landing. Guests will also have the pleasure of interacting with cool attractions at Kennedy Space Center. There are a million ways to learn about our universe at Kennedy Space Center.
FunSpot
With two locations across Central Florida, Fun Spot is the place to be for a great time with the whole family. This highly lit up, exciting attraction features some of the hottest thrill rides, go-cart tracks, and games ever known to man. This place really is HUGE, which is part of the tagline for the company's motto. Everyone in the whole family will find tons of great things to keep themselves entertained for hours and hours. Ride the Skycoaster as well as other high flying rides that will put your belly in your throat. Make your way around one of many go-cart tracks at either one of the locations. There are cars and tracks for every sized driver from the real young, to the older yet young at heart. With entertainment like this, it's interesting to think how video games can stay so popular! Save HUGE with Funspot ticket discounts.
Wild Florida
There are a number of airboat tour companies out there willing to bring guests out on the waters of the Florida wetlands for an impressive eco-sightseeing experience. Wild Florida Airboat Tours is the only company around that guarantees zero development in the horizon for that special "middle of nowhere" eco-tour experience. All guests will see out on those waters are the dozens and dozens of indigenous creatures found in the wetlands including thousands of alligators, birds of many kinds, and other animals including wild boar and deer. Airboats are not the only experience one will get at Wild Florida Airboats. There is also a 13 acre park including an awesome gift shop, a tropical bird aviary offering tons of birds along with hands on demonstrations of the animals on site, a 500 foot dock and fishing pier overlooking the beauty of Central Florida's wetlands, and even guided fishing and hunting adventures!
Gatorland
Gatorland is one of Central Florida's most fun attractions to visit for reptile lovers from all over. Here guests have the pleasure of spending time with indigenous cold blooded creatures like snakes, alligators, and lizards of various sizes and colors. As guests enter through the big open alligator mouth at the entrance to the park, they are welcomed by exhibits featuring these amazing creatures. They will also be entertained by some great shows which include alligator wrestling and feeding as well as cool areas where they can actually hold real, live baby alligators and large snakes. Gatorland is definitely a fun place to visit with the family when in the Central Florida area. There is a limitless amount of information to learn about the amazing creatures that make Gatorland their home so take a ride out and have a look. Find great cheap Gatorland tickets and save money on the adventure of a lifetime!
WonderWorks
WonderWorks, located on International Drive in Orlando, Florida is a really cool attraction packed with tons to see, experience, and learn about. There is definitely a little something for everyone at WonderWorks. The best part about the cool exhibits at WonderWorks is that most of them are fully interactive. Guests of WonderWorks will find cool games, simulators, and even a giant piano that can be played with the feet! Lots of the exhibits at WonderWorks focus on science and physics, which makes a really cool environment for learning a little something. The kids will have so much fun, they won't even realize they are learning! On top of the cool exhibits at WonderWorks, there are also a few really cool activities and side attractions available including Lazer-Tag, the Ropes Challenge Course, 4D Theater. And the Outta Control Magic Comedy Dinner Show. Save money today with coupons for WonderWorks tickets and start having fun!
Ripley's Odditorium
Ripley's Museum in Orlando is located right on International Drive in the heart of the tourism district of the city. If one has ever seen the show Ripley's Believe It or Not, then they would be well aware of what awaits them inside this very unlevel looking building (packed with some of the oddest attractions and items known to man). At Ripley's, guests will be able to move through this very interesting museum where they will find wax models of real people with some of the oddest abilities, afflictions, and or habits. These exhibits play with the mind through the use of optical illusions and the like. There are even some really funny attractions that allow some guests to exploit the lack of knowledge new guests may have. The kids will love this one! They are all about the cool yet interesting oddities that have made themselves visible over the years. Looking for discount Ripley's tickets? You've come to the right place.
Boggy Creek Airboats
Boggy Creek Airboat Tours offer a great alternative to the mundane theme park experience. This eco-tourism powerhouse is a great company to take a ride with. Guests will have the pleasure of seeing the Florida wetlands for what they really are, right in the middle of it all! There are possibilities of seeing alligators, snakes, various birds, and other awesome Central Florida animals and creatures moving about this vast area of natural habitat. With a variety of different tour options, there is something for everyone. Some options include one of many continuous half hour airboat tours, one hour night tours, and even the Extreme Swamp Safari! The Extreme Swamp Safari takes guests on an unforgettable ride through the wetlands in hopes of finding some of the wildlife that makes Central Florida so great. Go on an adventure to see natural hot spots that normal tours won't go to. Find great discounts on Boggy Creek Airboat tickets today!
Titanic Experience
Titanic The Experience is a live interactive exhibit which uses actors in Titanic period costumes to interpret the events prior, during, and after the sinking of the Titanic. The interactive, interpretive display offers everything from experiences to emotional stories from individuals who documented the events that occurred. These stories and interpretations are a great way to really immerse one's self into the whole Titanic experience as well as learning a lot more than the text books will ever tell. Guests will also be treated to an unforgettable display of artifacts recovered from the wreckage of the Titanic as well as images of dives to the Titanic wreckage. This 20,000 square foot museum is quite a scene complete with the Grand Staircase made popular in the motion picture film, Titanic, featuring Kate Winslet and Leonardo DiCaprio. Immerse yourself in the Titanic experience at Titanic The Experience and save money on your journey with Titanic The Experience discount tickets.