Kennedy Space Center Tickets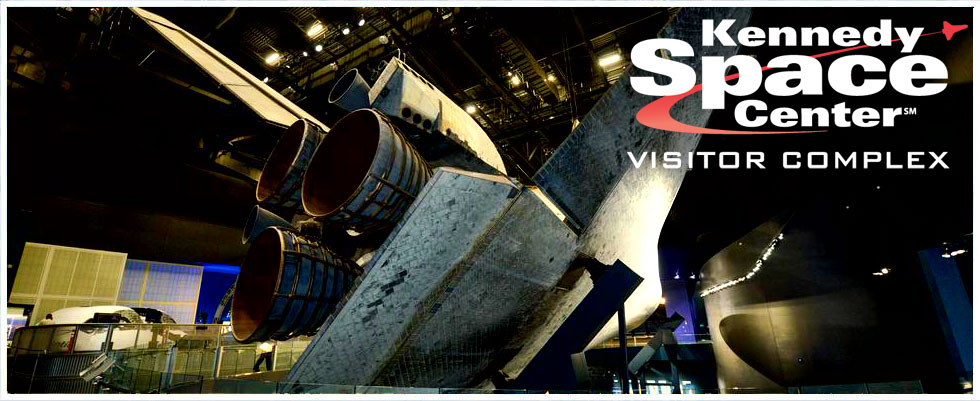 The Kennedy Space Center is the gateway to the universe for mankind. Some of the greatest steps in human history have been taken here in this facility. Now, just imagine what it would be like to be in the presence of that greatness. Just leave the thought out of a ridiculous price to get in this place. GreatOrlandoDiscounts helps cut the cost of your vacation by providing discounted tickets to Kennedy Space Center.

If you haven't been to Kennedy Space Center in the past, then start scheduling a trip today! Kennedy Space Center returns with an all new set of entertainment. From new guest speakers to exhibits, even an all new entrance! As soon as you see Kennedy Space Center you will be blown away by the changes. You will be greeted by a 5,000 gallon blue-granite water fountain that stands thirty feet tall and seventy five feet long. Kennedy Space Center is one of the most affordable attractions in the Central Florida area!

What other attraction can claim to be "the gateway to the universe"? Right here in Central Florida, just 45 miles east of Orlando, is the premier attraction for those both young and young at heart. Imagine the awesome earth shaking sound of those main engines when the space shuttle is lifting off the pad, sit down and enjoy a thrilling IMAX 3D cinema, witness a dramatic launch, or climb aboard the International Space Station. A dream that seemed impossible, here the past, present and future is celebrated by thousands of tourists. Immerse yourself into mankind's greatest adventure.
Kennedy Space Center Attractions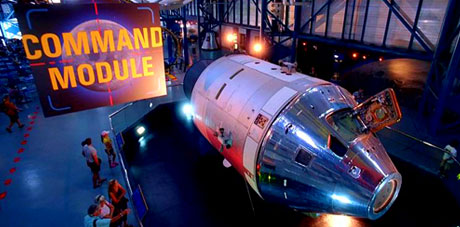 Launch Programs
One of the busiest places in Florida is the Space Center's launch and landing facility. Witness live launches from the closest designated public viewing areas right on Kennedy Space Center property, during operating hours. Thousands of communication and surveillance satellites have been put into orbit here at the Kennedy Space Center. The launches are monthly events aboard unmanned rockets such as Atlas, Delta, and SpaceX's Falcon 9. The unmanned rovers, Spirit and Opportunity, were launched from Cape Canaveral and landed successfully on Mars in another giant leap for mankind.
History of Space Exploration
Imagine walking the corridors of Kennedy Space Center, and around every corridor there is a little piece of history about the genesis of space exploration. Such programs such as the Mercury Program, which selected the first Astronauts and first manned spaceship to fly around the earth. With computers much less powerful than the smartphone in your pocket, early NASA engineers designed and created rockets that would take us into space.
Apollo/Saturn V Center
The Apollo era of space travel is considered to be the Glory Days of the space program. This special exhibit celebrates the monumental accomplishment of landing a man on the moon and returning him safely home. Stand under the mighty Saturn V, the biggest and most powerful rocket ever made or touch a rock from the moon!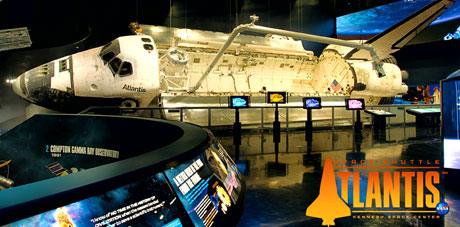 Space Shuttle Atlantis
Discover and explore one of the three remaining orbiters from NASA's 30-year Space Shuttle Program. At the Kennedy Space Center, Space Shuttle Atlantis is displayed rotated with payload doors open and robotic arm out-stretched. In other words, only as spacewalking astronauts from the International Space Station have seen her. There are also over 60 simulators and interactive exhibits that show off the components and complex systems of the shuttle.
IMAX Theater
Experience the out-of-this-world 3D movies, Journey to Space and A Beautiful Planet, at the world's only twin IMAX screens located on the Kennedy Space Center campus. Each enormous screen is 5-stories tall, and each captures all the crystal-clear cinematography from the IMAX projectors. In Journey to Space, see NASA's bold plan envisioned for mankind's next steps into the cosmos. A Beautiful Planet, with stunning footage captured by astronauts aboard the International Space Station, provides an inspiring perspective on the little blue dot we call home. Both movies are included in your admission.
Journey To Mars: Explorers Wanted
See exactly how NASA is planning to get humans to Mars at this interactive exhibit. You'll get a first-hand look at the Orion spacecraft and even take a step inside of a mock-up to see how astronauts will live and work inside the capsule. Find out what is happening at NASA currently with a live theater presentation. Simulators and interactive games will test your deep-space knowledge. Also, get an up-close view of the Mars Rovers and see how they are paving the way for a manned mission to Mars.