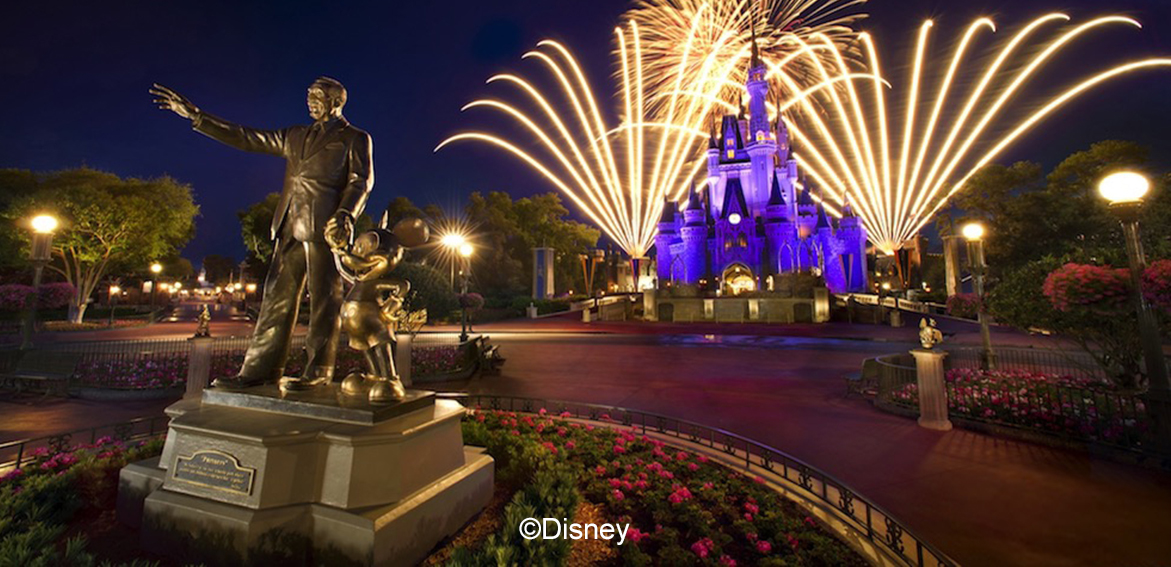 If you are searching for Magic Kingdom Information, you have come the the right place! Call one of our travel specialists for any questions regarding the park or travel packages including discount Disney World hotels, discount Disney tickets, rental cars, and dinner shows.
Welcome to a place where storybook fantasy is everyday reality, and Disney Characters are brought to life. Magic Kingdom in the Walt Disney World Resort is the symbol for family vacations in Orlando. The Magic Kingdom has 6 themed areas and you can check them out below.
[/vc_column_text][/vc_column][/vc_row]
Main Street, USA
Wishes Nighttime Spectacular
Wishes features a dazzling array of never-before-seen fireworks and pyrotechnic effects created specifically for this amazing show. Discover that wishes do come true when you experience this story so big only the sky can hold it.
SpectroMagic Parade
Witness all the brilliant magic.
Share a Dream Come True Parade
A magical parade of giant Disney snow globes with characters and stories that have touched hearts through the years.
Walt Disney World® Railroad
Narrow-gauge steam trains take you on a nostalgic journey around the Magic Kingdom® Park.
Main Street, U.S.A. Area Vehicles
Ride down Main Street, U.S.A. Area on a horse-driven trolley, omnibus, jitney, horseless carriage, or fire engine.
Cinderella's Surprise Celebration
This live show at the castle Forecourt Stage features your Disney favorites. Meet the characters afterwards.
Adventureland
The Magic Carpets of Aladdin
A gentle flight over the city of Agrabah on a magic carpet is a great way to view the park!
Pirates of the Caribbean
Venture into the world of gold and greed with these cursed pirates!
Jungle Cruise
Travel through the jungle and come face to face with exotic animals and lost tribes!
The Enchanted Tiki Room Under New Management
Meet up with some of the most energetic Disney characters such as Zuzu from Aladdin as they sing, dance and laugh.
Swiss Family Robinson Treehouse
Climb high into the air in this recreation of the Swiss Family Robinson's Treehouse, just like the movie!
J.P. and the Silverstars
Enjoy live entertainment as these professional musicians bring the streets to life!
Fantasyland
Under the Sea ~ Journey of the Little Mermaid
Explore Ariel's world under the sea in this musical adventure! With all your favorite characters and the best scenes from the Disney classic you can relive the tale of The Little Mermaid.
Enchanted Tales with Belle
This interactive adventure retells the tale of Belle and the Beast through special effects and live acting, singing and dancing.
Ariel's Grotto
Bring all your friends to meet Ariel from the Little Mermaid, make sure you bring your camera for this wonderful experience!
Dumbo the Flying Elephant
Whirl high above Fantasyland aboard your very own Dumbo! Control how high you go as you breeze around Storybook Circus!
Casey Jr. Splash 'N' Soak Station
Cool off on a hot summer day with a refreshing soak on this splash pad. With all the animals from Storybook Circus your kids can play on this awesome playground.
Mickey's PhilharMagic
Be dazzled by this immersive attraction that bursts forth with amazement from one of the largest seamless screens in the world! It stars Mickey Mouse, Donald Duck and other beloved Disney favorites in a hilarious adventure through movies, music and mayhem.
It's a Small World
A musical tour featuring children from nations all over the world!
Cinderella's Golden Carousel
Gallop around and around on one of 90 handmade wooden steeds, while listening to your favorite Disney music.
Tomorrowland
Space Mountain
Dare to be a rocket jockey and blast into the outer-galaxy past shooting stars and other-worldly celestial satellites. Twist and turn in a tumult of fun as you launch into the inky blackness of the nether reaches of space. It's one giant leap for fun!
Buzz Lighyear's Space Ranger Spin
Be a junior Space Ranger and pilot your Star Cruiser through imaginative, immersive worlds. You are the pilot as you careen through a comical cosmos! Go on a daring space mission to save the toy universe from the sinister Emperor Zurg.
Timekeeper (seasonal)
Meet famous inventors and visionaries of the machine age.
Astro Orbiter
Pilot your own spacecraft high above Tomorrowland® Area.
Tomorrowland Indy Speedway
Drive your own race car around a twisting, turning track.
Tomorrowland Transit Authority
Tour Tomorrowland® Area aboard ingenious transportation.
Walt Disney's Carousel of Progress (seasonal)
A tour of technological progress from the beginning of the 20th century to the near future.
Liberty Square
Goofy's Country Dancin' Jamboree
Kick up your heels with Goofy and friends including stars of Disney Pixar Toy Story 2.
The Haunted Mansion
Make yourself at "tomb sweet tomb" in the home of 999 happy haunts, where there's "always room for one more." Inside, hop on a Doom Buggy to get in the "spirit" of things. Experience the stretching room, the séance and hitchhiking ghosts in this Disney classic.
The Hall of Presidents
A sweeping tribute to the office of the Presidency and the history of the United States of America.
Liberty Square Riverboat
Tour the Rivers of America aboard this authentic three-tiered paddleboat.
Mike Fink Keel Boats
Davy Crockett's buddy takes you on an up-close tour of the Rivers of America.
Frontierland
Splash Mountain® Attraction
Scream into the Briar Patch on a five-story drop.
Big Thunder Mountain Railroad Attraction
Zip in and out of a deserted gold mine on a runaway mine train.
Country Bear Jamboree
Music performance by twenty life-sized bears.
Frontierland® Area Depot
Tour the Rivers of America aboard this authentic three-tiered paddleboat.
Frontierland® Area Shootin' Arcade
Use infrared rifles to hit targets and trigger silly sight and sound gags.
Tom Sawyer Island
A retreat designed by Walt Disney himself.