Disney World Group Tickets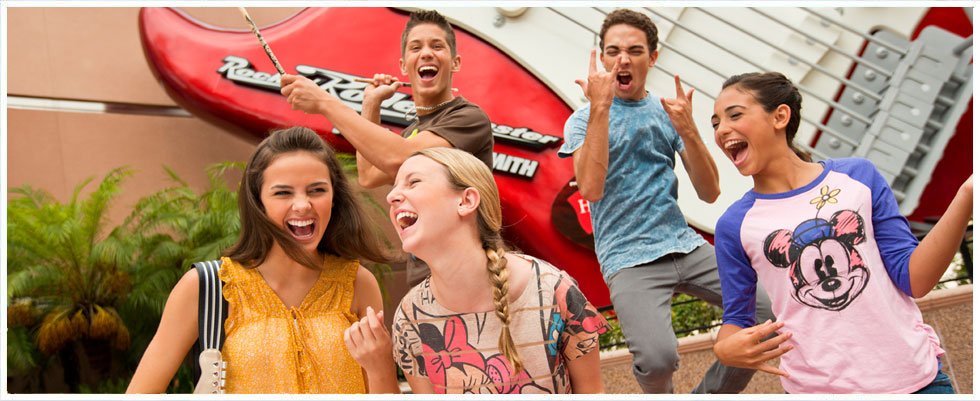 Call 407-334-4652 for Group Tickets
Walt Disney World has many groups that visit the parks ever year, these groups range from youth groups to high school field trips. Youth groups like to attend the Night of Joy event, Night of Joy is usually held some time in September. This event is a contemporary Christian music festival and is held in Disney's Hollywood Studios. Youth groups can see live performances by the top contemporary Christian rock, pop and gospel bands as well as ride some rides.
Disney also attracts school field trips to all the parks each year from all schools all over the world. One event that is really exciting for high school seniors is their Grad Night. Disney's Grad Night promises high school seniors to have a great time with the hottest performers and bands, dance parties, special fireworks show, and unlimited access to all of the thrilling rides in the park. Disney also has the Disney Magic Music Days for high schools from all over as well where there are live performances and a parade. The performances include dancers, singers, and any other talent. The parade includes the schools band performing along with dancers. This special event teaches lifelong lessons of teamwork, discipline, and artistic growth.
Walt Disney World also has the Disney Homeschool Days which is a program for homeschoolers. This gives homeschoolers a chance to explore scientific, cultural, creative and natural exhibits at all of the Walt Disney World theme parks. Scout groups and church groups are also able to take private tours at the different parks that are not only fun but educational. Some of the tours included for these groups are the Wild By Design tour which is a three hour tour and is located in Disney's Animal Kingdom. This tour tells a story of how creative wizards at Walt Disney Imagineering transformed the wetlands of Florida into an exotic landscape. They also like to take the Behind the Seeds tour located at Epcot and is an indoor walking tour of the greenhouses in the theme park. The Backstage Safari is also another tour for the scouts to enjoy, this tour is three hours long and is located at the Disney's Animal Kingdom.
Another tour at Disney is the Disney's Family Magic Tour which attracts families from all over the world, this is a two hour guided tour that goes on a quest to save Magic Kingdom from the Disney Villain. Disney World also has the Animal Programs which give the Scouts or Church groups an up close look with the exotic animals that are sure to make everyone smile. The Animals Programs do change from time to time and last for about an hour. Walt Disney World has many reasons for groups of any kind of visit for a day or maybe even two or three and have fun while at the same time add in some education.
If your group does not qualify for the more heavily discounted group packages, you may still purchase your theme park tickets at a discount with us.
We offer discounts on tickets for groups of 10 or more. Deeply discounted admissions to Walt Disney World, Universal Orlando® Resort, SeaWorld, Kennedy Space Center and all the other area attractions. If your group is coming to Orlando for a convention, field trip, group competition or any Orlando trip.