Universal's Islands of Adventure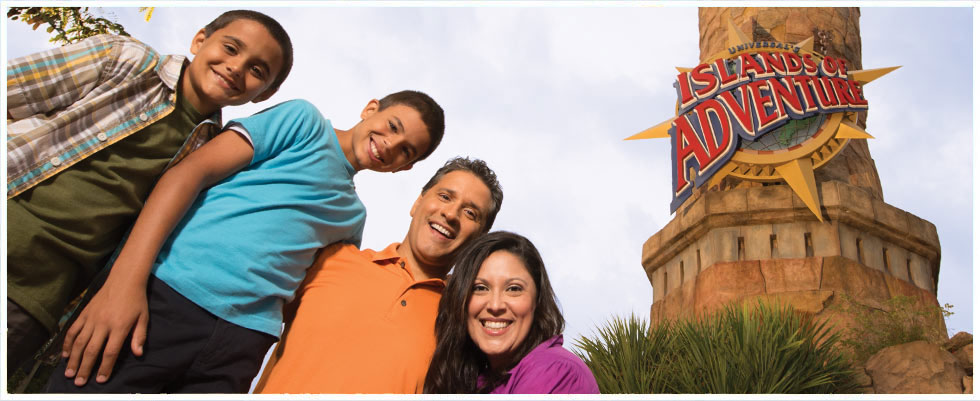 Take an unforgettable journey through remarkable lands where all your favorite myths, legends, comic books, cartoons, movies, and children's stories come to life on cutting edge rides and attractions that challenge all your senses. Swing high above the city streets on The Amazing Adventures of Spider-Man®. Travel through beloved childhood books in Seuss Landing™. Come face-to-face with a mighty T-rex in Jurassic Park®. And enter a world where magic is real in The Wizarding World of Harry Potter™ – Hogsmeade™.
Islands of Adventure Rides, Shows and Experiences
The Wizarding World of Harry Potter™ – Hogsmeade™
The Hogwarts™ Express*
For the first time ever, Muggles™ will be able to ride on the Hogwarts™ Express. Guests with Park-to-Park admission tickets can travel between Hogsmeade™ Station (in Universal's Islands of Adventure) and King's Cross Station (in Universal Studios Florida) on the iconic scarlet steam engine, encountering different characters and creatures from the Harry Potter™ stories each way.
*Additional restrictions apply.
Harry Potter and the Forbidden Journey™
Make your way through the classrooms and corridors of Hogwarts™ castle. Then soar above the castle grounds with Harry Potter™ on a groundbreaking ride that takes you on an unforgettably thrilling adventure where you'll come face-to-face with magical creatures.
Triwizard Spirit Rally
Cheer on the colorful procession of students from Hogwarts™, Beauxbatons, and Durmstrang as they lead the excitement for the Triwizard Tournament.
Frog Choir
Enjoy a presentation by a small choir of Hogwarts™ students, accompanied by their large croaking frogs. The group of four students – one each from Gryffindor™, Slytherin™, Hufflepuff™ and Ravenclaw™ houses – perform familiar wizarding songs.
Marvel Super Hero Island®
The Amazing Adventures of Spider-Man®
Put on your special spider vision glasses because you're in for a one-of-kind 3D ride that's the first of its kind. Through high-tech 3D visuals and pulse-pounding action, the world of Spider-Man™ comes to life!
The Incredible Hulk Coaster®
Roller coaster enthusiasts will find this unique ride to be an unforgettable experience! Dr. Bruce Banner has developed a gamma ray that will catapult you through space on a high-speed rampage!
Doctor Doom's Fearfall®
Doctor Doom's new device can only be described by one word: "diabolical!" This machine rockets you 150 feet into the air and then pushes you downward with a force faster than gravity can carry you!
Storm Force Accelatron®
The evil Magneto™ has come up with another cunning plan to defeat the X-Men™ and threaten the world. You and Storm™, our super heroine with the ability to control the weather, are the only two things standing in his way. Get ready, because this ride is full of twists!
Meet the Marvel Super Heroes
Meet your favorite super heroes and get your picture taken with them as they patrol the streets of Marvel Super Hero Island®!
Seuss Landing™
The Cat in the Hat™
Hop onto a couch with a few friends or family members and ride through the pages of Dr. Seuss's beloved childhood book with the mischievous Cat himself!
Caro-Seuss-el™
Everyone loves a carousel, and here in Seuss Landing you can ride around with some crazy and colorful creatures. You can animate them, too, by pushing and pulling on reins and levers to move their eyes, ears, and heads!
One Fish, Two Fish, Red Fish, Blue Fish™
This fun interactive encounter lets you steer your fish through a musical rhyme of fountains that squirt in time to the tunes you hear as you go 'round and 'round and up, up, up and down, down, down!
If I Ran The Zoo™
This interactive play area features some of the strangest and most creative of creatures from the books. Turn a crank, spin a wheel, and step on pedals to see a menagerie of bizarre creatures appear from behind the hedges. Great for kids of all ages!
The High in the Sky Seuss Trolley Train Ride!™
Fly through Dr. Seuss's imagination on this colorful, crazy train ride! One track of the trolley even circles around the inside of Circus McGurkus Cafe Stoo-pendous™ letting you wave at the guests dining below.
Toon Lagoon®
Dudley Do-Right's Ripsaw Falls®
After a while under the warm Florida sun you'll probably want to cool off. You can do just that—and more—when you hop onto this wild and wet flume ride that will have you screaming and splashing the whole way down!
Popeye & Bluto's Bilge-Rat Barges®
Another fun way to cool off is to take a wild water ride with Popeye to help him save Olive Oyl from his arch nemesis Bluto in a twisting, churning raft ride through raging rapids!
Me Ship, The Olive™
Popeye's ship is full of interactive fun. It's three stories of passageways to crawl through, slides to go down, cargo nets to climb, horns to toot, and more! Your kids will enjoy every moment of their imaginative exploration!
King's Row™ & Comic Strip Lane
Here at King's Row and Comic Strip Lane you can meet some of your favorite characters in person!
Jurassic Park®
Jurassic Park River Adventure®
This wild ride is a river adventure that takes you through prehistoric dinosaur habitats, narrowly avoiding obstacles that include rapids, waterfalls and a very hungry T-rex!
Jurassic Park Discovery Center®
Here you can enjoy a wide variety of interactive games and entertainment! Uncover fossils or watch a raptor egg hatch. You could spend hours here and still not experience everything! It's an adventure in itself!
Pteranodon Flyers®
Take flight in this gentle two-passenger aerial ride! You and your soaring companion can experience Camp Jurassic® and the Jurassic Park® area from a bird's eye view!
Camp Jurassic®
This prehistoric playground features a variety of fun things to explore, including secret caves, water cannons, suspension bridges, an amber mine, and more.
The Lost Continent®
The Eighth Voyage of Sindbad® Stunt Show
Sindbad rescues the beautiful Princess Amoura in a daring display of spectacular stunts and magic tricks that will have you on the edge of your seat. This is one show you don't want to miss!
Poseidon's Fury®
Take a wild tour through the remains of an ancient temple that belonged—or still belongs—to the god Poseidon. But be warned about venturing too far…there's a good chance you might not make it back!
The Mystic Fountain
Located in Sindbad's Bazaar, this beautiful fountain is a great place to take a rest during a hot summer day. Listen close—the enchanted spirit that lives inside loves to tell riddles and jokes. But be sure to answer its questions correctly or you might get wet!