Discount Norwegian Cruise Reservations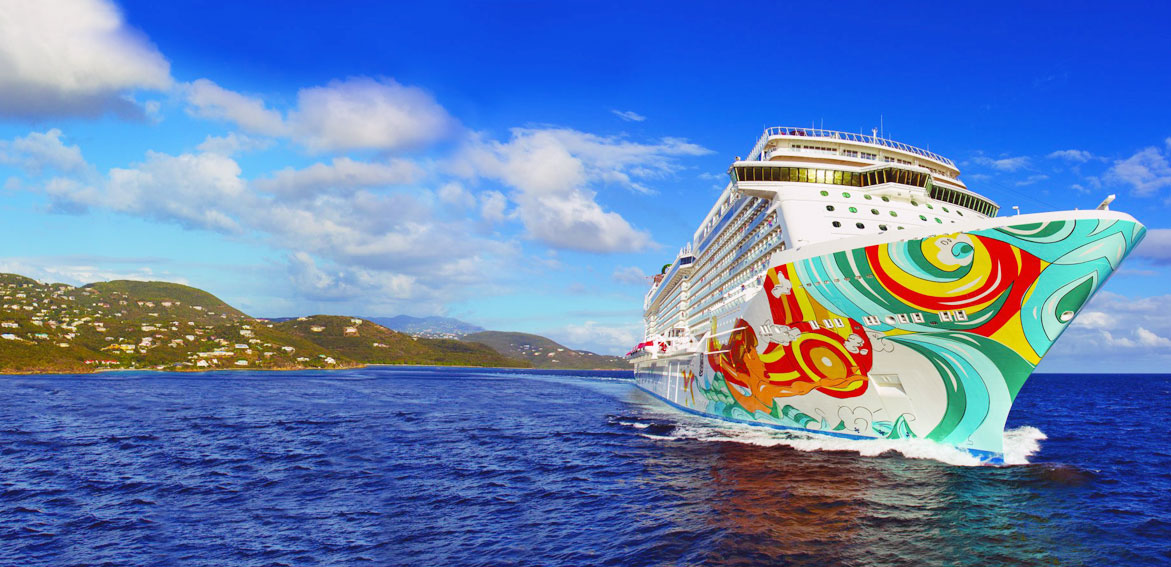 Call Us for Norwegian Cruise Specials 863-557-2350
Freestyle Cruising means freedom of choice. Norwegian's fleet of first-class ships offers up to 10 restaurants serving everything from tapas and sushi to gourmet French and Italian. Dress for dinner is "resort casual," and formal nights are optional. With the Mandara Spa, Lifestyle Program, and Kid's Crew activities, the choices are endless.
Norwegian Cruise Service and Amenities
What is it that sets Norwegian apart from other cruise lines? Why should you book with Norwegian? The reasons are many:
Norwegian Freestyle Dining
None of the other cruise lines offer 13 different restaurants on board a single ship. They even comes close. Whether you want steak, sushi, tapas, French cuisine, Mediterranean, Asian Fusion, Italian pasta, Tex-Mex barbecue, overflowing buffets, pizza. Your choices are endless and sometimes overwhelming.
You can dine WHERE you want
With up to 13 restaurants, you'll be sure to find what you're in the mood for. We apologize for the "What do you feel like for dinner?" arguments and conversations that you'll have ahead of time. If you just can't decide, there's also 24-hour room service.
You can dine WHEN you want
Our restaurants are open for dinner from 5:30 pm to 12 midnight. Come in late with seating until 10:00 pm. Take your time, have fun, see the shows you want to see. Stay in the casino when you're hot! Dine when you want to ….or better yet, when you're hungry! Not when some clock says you are.
You can dine with WHOMEVER you want
Maybe you're just not the type to eat dinner with strangers. And maybe certainly not EVERY night. With Norwegian, you're welcome to enjoy dinner with the people you came on vacation with or we'll gladly seat you with other cruisers. The choice is all yours.
Norwegian Cruiseline Freestyle Staterooms
Whether it's a big family reunion, a break with some friends or a special occasion like an anniversary or honeymoon, it doesn't matter because we've created the best variety of staterooms & suites on the high seas. Huge 3-bedroom rooftop Garden Villas. Cozy Inside Staterooms. Expandable Family Suites & everything in between.
Norwegian Freestyle Dress Code
One of you wants a little glamour and the other is casual. On Norwegian, it's no problem. Thanks to NO FORMAL policy, you can be elegant one night and casual the next. It's called resort casual and it's certainly a lot more comfortable than wearing a tux.
Norwegian Cruise Freestyle Disembark
With most other cruiselines, getting off the ship can be a lot of "hurry up and wait." Not with Norwegian. We thought you might want to sleep in a little on that last morning. Savor the finish. Or get a quick breakfast or workout. So we say, relax any way you like, until it's really time to go.
Discount Norwegian Cruise Freestyle Fun
On a Norwegian cruise ship, you can go bowling or go to the spa. Try the bungee trampoline or try some yoga. Sing Karaoke or swing kick-boxing. Or go swimming, spinning, shopping ….whew! So much to do on the ship. Imagine the shore excursions – hiking, biking, diving, snorkeling, surfing, golfing, touring and partying!
Planning a Norwegian Cruise? Call 863-557-2350 today for Norwegian Cruise Discounts!