Disney's Typhoon Lagoon Water Park Tickets
Disney legend has it that a furious storm once roared across the sea, hurling surfboards into trees, blowing small boats through roofs and impaling a shrimp boat on a peak of a great volcanic mountain.
This world renowned water park boasts a revolutionary artificial wave machine. Test your surfing skills and tackles these man made waves! Only at the Walt Disney World Resort! The wave pool at Typhoon Lagoon is the largest in the world! Plenty of excitement can be found for the entire family with every peak and crest! Disney's Typhoon Lagoon promises the most wild, wonderful and wet water adventure known to man or fish.
Typhoon Lagoon is one of the most recognized water parks in the United States and if you'll find out why as soon as you step into the park. Home of some of the most thrilling rides and most interesting decorations Typhoon Lagoon is a top of the line water park that will have you at the end of your tube wanting more speed and adrenaline! There are plenty of rides at Typhoon Lagoon so you can really make it an all day event if you want to. Many people like to go to Typhoon Lagoon to get a nice refreshing cool down from the hot Florida sun because sometimes walking around in a park can get very tiring and if you want to leave during the middle of the day you can and soak down in some cool water or speed down plenty of rides. So if you're looking for a great splashin' good time in Central Florida then Typhoon Lagoon is the place to be!
Disney's Typhoon Lagoon Water Park Tickets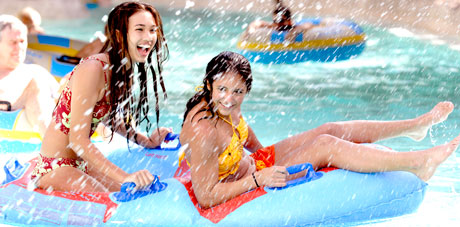 Castaway Creek
Ride an inner tube on the gently flowing waters that wind their way on a tremendous 2,000 foot journey through the Park.
Humunga Kowabunga
Shoot down Mount Mayday in any of three side-by-side 214-foot enclosed speed slides at a 60-degree angle.
Keelhaul Falls
A single person flume ride for everyone that sends you careening through a waterfall and caverns before a big splash at the bottom!
Crush 'n' Gusher
A roller-coaster type of waterslide like none other! Bring a friend or 2 to join you on this multi-person, signature attraction.
Shark Reef
This attraction is a salt water, snorkeling adventure where you wwim with real sharks!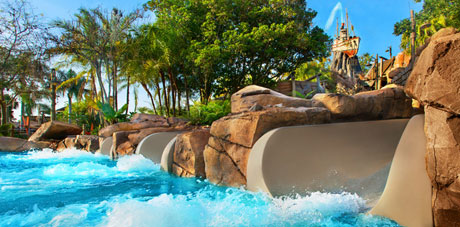 Storm Slides
Hurtle down Mount Mayday in 1 of 3 body slides; Rudder Buster, Stern Burner or Jib Jammer. They each have different twists and turns but they all end in a splash!
Mayday Falls
Go overboard for this fun-filled inner tube water slide adventure that curves down the mountain.
Surf Pool
Come on in! The water's just fine! One of the world's largest wave pools awaits.
Gang Plank Falls
Finally, a ride the whole family can get excited about, because everyone can ride at the same time!
Ketchakiddee Creek
Make a splash at this water play area that offers big fun for little ones – with small scale slides, fountains and more.