If you're coming to Florida to see them gators, then Gatorland is the place to see those monstrous animals. With hundreds of these animals on the premises, it would be pretty hard NOT to see one. Actually, the entrance to the park is shaped in the likeness of a gigantic gator mouth. Millions have passed under this archway to get a glimpse of a Florida that once used to be long before Walt ever even knew what a mouse was. And like the millions before, you to can see this version of Florida as it once was. But, unlike all those before you, you can catch that glimpse without having to pay the full price because you know about Great Orlando Discounts.
The rich history of Gatorland dates back to 1930. Since then, this creative and one of a kind attraction has been family owned and operated. The owners have always loved nature and that's why Gatorland is such a huge conservatory. Besides the gators, there are many other species of exotic and rare wildlife. You'll see snapping turtles, snakes, a plethora of birds, deer, and other animals not native to Florida.
"When I went to Gatorland I saw the biggest gators I've ever seen in my whole life. They were just tremendous beasts and that could move surprisingly (and dangerously) quick, when they are on the hunt for prey. Visiting Gatorland gave me a whole new respect for those creatures, along with the multitude of other animals that are on display there. I certainly gained a lot of new knowledge of the local Floridian wildlife. The zoologists and marine biologists on hand are very knowledgeable about the area and you get to hear from them through the small tours given and questions you ask them too. My favorite show would have to be the Gator Jumparoo. This is the show where a piece meat is dangled from a rope to a bunch of hungry gators. I'll tell you what, I was not expecting those gators to be able to jump as high as I saw them jump. It was very entertaining to say the least."
-Satisfied Gatorland Guest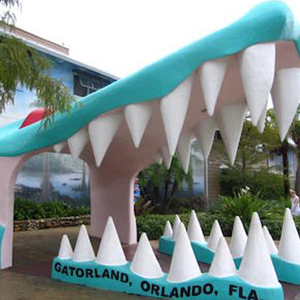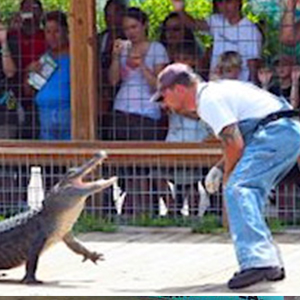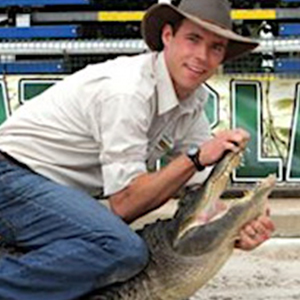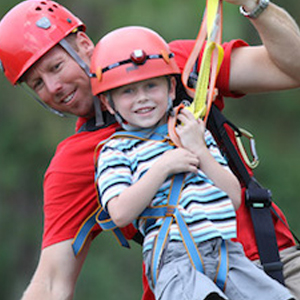 Screamin' Gator Zip Line
This fun adventure takes you high above the theme park where you can "zip" from tower to tower on sturdy steel cables. But what makes this adventure so unique is that you pass over these alligator infested waters! When you start this fun adventure you will be greeted by some of Gatorland's professional jump guides. They will seat you in a square room where you will be instructed by a comical movie that explains the ten steps to keeping you safe while on the tower. After that these experts strap you into your zipline gear and harness, topped off with a red helmet. Then you are led across the theme park to the first tower for the "Gator Grunt Run," the first of five separate jumps that you will enjoy on this course.
Alligator Island
Home to the largest gator in all of Gatorland, the monstrous 15-foot American Crocodile lovingly called "Alf". Alligator Island is where you'll see the big boys. It is also an alligator nesting ground and a home to thousands of Mexican Free-Tail bats
Gatorland Express Railroad
This ride has been entertaining Gatorland's guests since 1965. The Gatorland Express Railroad gives guest an expansive view of the entire park. Come and take a ride on the Gatorland train!
Gatorland Mouth Entrance and Shop
The creator of the world famous entrance to Gatorland is Frank Godwin, son of the founder of Gatorland, Owen Godwin. This iconic entrance leads in the critically acclaimed Gatorland gift shop where you'll find all sorts of Gatorland memorabilia.
Gator Wrestlin'
This unique feat of bravery is a can't miss when visiting Gatorland. Courageous (or crazy, depending on your own view) Gator wranglers will catch a gator and perform stunts for the audience in the classic "Florida Cracker" style. The wrangler will catch a gator with his bare hands, get on the dangerous animal's back, and then proceed to show the audience the gator's survival features. Oh, and the gator wrangler doesn't do all this with a baby gator, these are 6 to 8 foot alligators we're talking about here. Needless to say, you gotta see it to believe it.
Gator Jumparoo
Watch some of the world's largest alligators jump 4 to 5 feet out of the water to snatch food. Learn about alligators and crocodiles and their awesome strength. Place this show on your family's to-do list in Orlando.
Upclose Encounters
You'll get to see strange and intriguing creatures from all over the face of the earth, along with animals native to Florida, at the Upclose Animal Encounters show. You'll also see some of the most poisonous and dangerous snakes in existence.
Jungle Crocs
Inside a caged in pond, concealed underneath the dark waters, await four rare and exotic crocodiles. These dangerous and fierce creatures can be silently motionless one moment, and then explode with incredible speed and strength in the next half-second. The question that remains is this: are you brave enough to enter the land of Jungle Crocs?