Disney's Blizzard Beach Water Park Tickets
Disney legend has it that after a freak winter storm blanketed the area with snow, Florida's first ski resort was born. Disney has created one of the most uniquely themed water parks. Set in a backdrop of a melting ski resort that spills into a wet lagoon, visitors of all ages can enjoy all that Blizzard Beach has to offer! Disney's Blizzard Beach features the tallest and fastest water slide in the world! Take the Summit Plummet challenge and tell your friends and family all about the drop!
Blizzard Beach easily became one of Florida's top water parks, in fact it is ranked among the top water parks in the United States! Blizzard Beach doesn't fall short of spectacular, of course you can' expect any less than that from Disney! Blizzard Beach is the ultimate water park if you're staying in the Disney Area and with select tickets you can cool down in a water park after having a fun day in any of the Disney Theme parks.
Blizzard Beach is jam packed with fun attractions and plenty of things to do for anyone in the family. It ranks among the top water parks in the World so you can expect the best when you walk through the gates. Some people won't even make it to the ride without already being amazed by the stylish design in the park. There is plenty of rides that are beautifully designed and extremely scary for those who aren't very experienced thrill seekers! Step into one of Disney's greatest parks and find out for yourself why everyone is so excited. We have great deals on the individual tickets if all you want to do is go to Blizzard Beach but we highly recommend that you purchase a HOPPER PLUS ticket so you can see more of the Disney parks and not just a water park! Whatever you choose to do, just know that you'll be having a blast!
Blizzard Beach Water Park Rides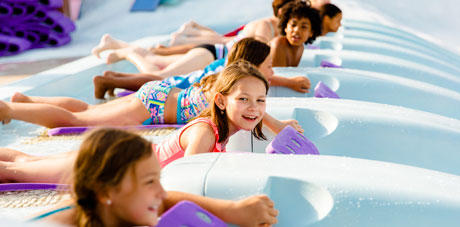 Cross Country Creek
Put your feet up and unwind in an inner tube on this continuously flowing creek that encircles the entire Park.
Melt-Away Bay
Take a break from all the thrills and relax on the white sand beaches of this massive bay where all the waters from Mount Gushmore collect.
Runoff Rapids
Choose between 3 different water slides, where you can ride solo or in pairs, that send you 600 feet down Mount Gushmore in distinctly unique ways.
Teamboat Springs
Climb aboard one of the world's longest family raft rides for a curvy, crazy, watery trip down the mountain.
Toboggan Racers
Get ready to race headfirst, belly down, to the bottom Mount Gushmore in this competition to see who's going to have the most fun the fastest!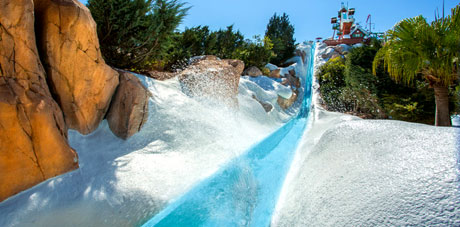 Downhill Double Dipper
Try each of these two parallel flumes and race to the bottom of the mountain in this inner-tube speed slide.
Ski Patrol Training Camp
This activity-centered area lets big kids test their skills with zip lines, cargo nets and body slides.
Slush Gusher
Swoosh down the mountain in this speed slide to the base of the snowy Mount Gushmore.
Summit Plummet
Mentally prepare yourself to ride the finest and most fearsome attraction at this water park. With a 120-foot slope this is one of the tallest, fastest, free-fall body slides in the world.
Tike's Peak
Enjoy this snow-covered play area for tots that has small-scale slides, pop jets and a fountain play area.