Experience the most explosive dinner show in Orlando! The Pirates Dinner Show is feature packed including a pre show boasting an appetizer buffet. After the feast, enjoy the "Buccaneer Bash" where you can meet your favorite characters to dance and party the night away!
Pirates Dinner Show is the Central Florida show that has it all. Pirates gets the whole audience involved, firing up the crowd to this epic dinner adventure. Adults and children of all ages will love this show, which features a massive three hundred thousand gallon indoor lagoon for a stage. Floating in the middle of the lagoon is forty six foot authentically replicated Spanish galleon, complete with forty foot masts and an eighteen food wide deck for nonstop action and adventure. Look up for a fully lit night sky as you surround the lagoon in this six sided arena. Each side of the theatre is its own ship, and you are its crew.
Each of the six crews has its own fearless pirate mascot who, as the ships voyagers, you cheer for as the adventure unfolds. Dozens of actors, stunt performers and singers will have you on the edge of your seat as the engage in jaw dropping action-packed stunts, duels and exploits. All this action and fun is accompanied by a series of pyrotechnics, cannon blasts and of course, comedy that will have you cheering time and time again. The newest addition to this great show is a life-sized sea dragon that will have you biting your teeth upon its arrival. With over sixteen year of action and adventure Pirates Dinner show is bringing you quality entertainment.
The Pirates Dinner show tells the story of how a young and handsome pirate falls in love with a lovely princess. He must help her escape the clutches the evil captain. Audience participation is vital as guests help capture opponents and evil pirates.
Along with being one of highest recommended dinner shows in the area, Pirates also hits the deepest levels of audience interaction. Be sure to bring your camera because your child may become part of this unique extravaganza! Mingle with the crew before and after the main show during the King's Festival Buffet and the after party, the Buccaneer Bash. Dancing and partying abound upon completion of the show.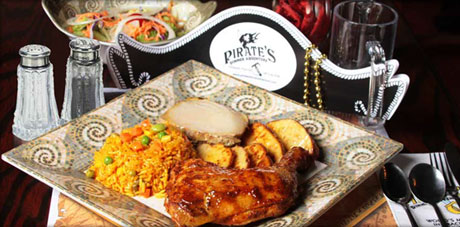 The Pirates Dinner Show Menu
First Course
Tossed Garden Fresh Salad: Served with House Dressing
OR
Tomato Bisque: Savory Tomato Soup
Main Course
Treasure's Chicken: Oven-Roasted Chicken Breast in a savory blend of spices and seasonings, served with Caribbean Rice and steamed Mixed Vegetables
OR
Buccaneer Beef Kabobs: Beef Sirloin with Roasted Vegetables on a skewer served over a bed of Caribbean Rice, accompanied by steamed Mixed Vegetables
OR
Vegetarian Option: Veggie Lasagna in marinara sauce with Mixed Vegetables
Desserts
Princess Anita's Royal Dessert: Fudge Brownie a la mode, a dessert fit for royalty
Beverages
Complimentary soft drinks, beer, served during main show only. All other times, Cash bar is available.
*Drink Rounds limited
*Menu Subject to Change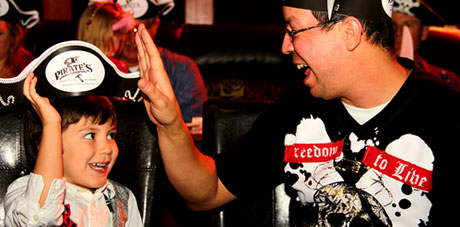 The Pirate Experience
"The Pirates Dinner show will keep you on the edge of your seat from the pre-show (with hilarious activities for the kids) to the last cannon blast from the authentically replicated 18th Century Spanish Galleon. This show is sure to entertain everyone in the family. Here's a quick synopsis of the story: You and your party are invited to a special banquet to celebrate the supposed vanquishing of the King's great enemy, the pirate captain Sebastian the Black. You are accompanied by a prince and the princess Anita to the dining hall where you will feast. Then suddenly you are ambushed by Sebastian the Black's band of pirates! So, instead of going to the King's banquet hall, you end up aboard one of the pirates' ships. But, don't worry about not eating. The pirates know that they have to have you "well fed for the coming storms ahead." So, you sit down at your table with your meal (served by wenches) and then the story unfolds before your very eyes. You learn of Sebastian the Black's plans to kill the prince and take princess Anita for himself, but his crew of pirates have there own intentions. Who ever heard of a loyal crew of pirates anyways? It's every Pirate for himself! And so battles ensue for the fair hand of the princess and over the royal treasure. You'll see daring acrobatics, rhythmically enchanting dances, and sword fights to the death all in the same show! Be prepared to be entertained! There might even be a special guest appearance by a currently famous pirate, rumor has it….. "
– Gabriel