Universal Studios Florida Tickets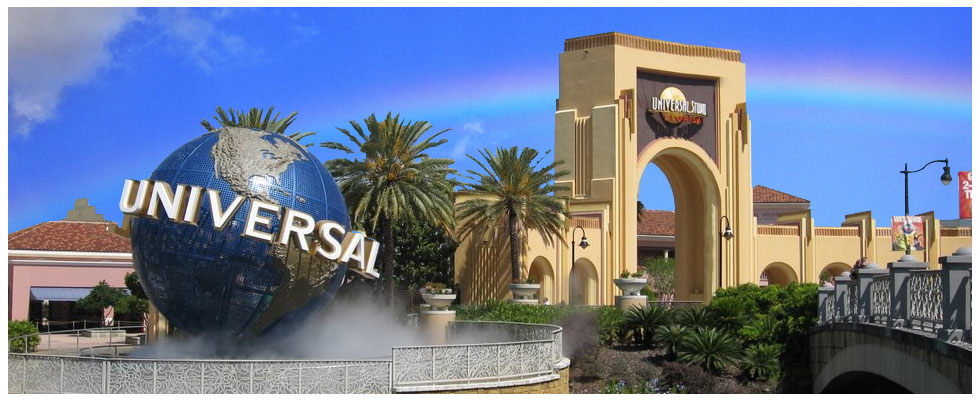 The Wizarding World of Harry Potter™ – Diagon Alley™
Harry Potter and the Escape from Gringotts™
At the far end of Diagon Alley™ stands Gringotts™, the goblin-run bank. Inside, you'll experience a pulse-pounding adventure on the groundbreaking, multi-dimensional thrill ride that puts you right in the middle of the action as you navigate your way through the perils of the Gringotts™ vaults – encountering Harry, Ron, and Hermione along the way!
Hogwarts™ Express
For the first time ever, Muggles™ will be able to ride on the Hogwarts™ Express. Guests with Park-to-Park admission tickets can travel between Hogsmeade™ Station (in Universal's Islands of Adventure) and King's Cross Station (in Universal Studios Florida) on the iconic scarlet steam engine, encountering different characters and creatures from the Harry Potter™ stories each way.
The Tales of Beedle the Bard
This new stage show features a troupe of four from the Wizarding Academy of Dramatic Arts who have set up to perform a trunk show using stylized scenic pieces, props and puppetry fabricated by Emmy-award-winning designer Michael Curry. The performers retell two of the famed tales of Beedle the Bard, a 15th-century author of wizarding fairytales, including "The Fountain of Fair Fortune" and "The Tale of the Three Brothers."
Celestina Warbeck and the Banshees
This musical performance features the ever-popular singing sensation of the wizarding world, known from the books as Molly Weasley's favorite singer, who she listens to on the Wizarding Wireless Network. The swinging show will feature never-before heard songs including, "A Cauldron Full Of Hot, Strong Love," "You Stole My Cauldron But You Can't Have My Heart" and "You Charmed The Heart Right Out Of Me" – titles all created by J.K. Rowling.
Production Central
TRANSFORMERS: The Ride-3D
On TRANSFORMERS: The Ride-3D, you'll become a N*E*S*T recruit, fighting to keep the AllSpark out of enemy hands. Help Optimus Prime and Bumblee defeat the evil Megatron and his Decepticons in this high-speed, ultra-immersive experience. The line between fiction and reality will blur as epic high-definition 3D film is fused with flight simulation technology to redefine thrill rides. Prepare for the greatest battle you'll ever ride!
Despicable Me Minion Mayhem
Despicable Me Minion Mayhem is a hilarious, family-friendly 3-D ride. Your adventure begins in Gru's home where you are recruited for his latest scheme, becoming an actual Minion. After you've made it through "Minion training," things don't go as planned and you're launched through Gru's laboratory in an unforgettable adventure with Gru, Margo, Edith, Agnes and those little mischievous Minions. After the ride, the Minion-inspired dance party begins allowing you to interact and dance away. It's great fun for everyone.
Shrek 4-D
In this chapter of our saga, Lord Farquaad has returned to kidnap Princess Fiona. Join the world's favorite big green ogre and his wisecracking, four-legged sidekick as they take off in hot pursuit. You'll gallop through a haunted forest, ride on the back of a fire-breathing dragon, and plunge over a churning waterfall in order to save the day.
Hollywood Rip Ride Rockit®
This first of its kind roller coaster features a unique aspect that lets you choose your music before strapping in!
Krustyland/Springfield
Fast Food Boulevard
Enter the world of The Simpsons™ like never before at Universal Studios Florida®! Stroll down Fast Food Boulevard and enjoy a "Genuine Clown-Endorsed Meal" at Krusty Burger, grab a Homer-sized helping of donuts at Lard Lad, and imbibe at Moe's Tavern. You can also purchase merchandise (but not 10-year-old milk) at the Kwik-E-Mart, and crash through Krustyland on The Simpsons Ride™.
Kang & Kodos' Twirl 'n' Hurl
Take an intergalactic spin on Kang & Kodos' Twirl 'n' Hurl, an all-new ride guaranteed to send your lunch into orbit.
The Simpsons Ride™
Ride along with The Simpsons™ as they visit Krustyland, the theme park created by famed TV personality and shameless product huckster Krusty the Clown. Is somebody out to sabotage the park? You'll find out as you join Homer, Marge, Bart, Lisa and Maggie and enter through the carnival-like midway.
New York
Revenge of the Mummy®
Dive deep into total darkness and come face to face with scarab beetles, fireballs and this cursed tomb's army of mummy warriors in this awesome, action packed adventure!
The Blues Brothers®–NEW YORK
Join the party on Delancey Street in New York with the bad boys of blues, Jake and Elwood!
Hollywood
Universal Orlando's Horror Make-Up Show
Special effects interest everyone, and this attraction lets you see some of Hollywood's biggest secrets from the special effect artists who create them.
World Expo
MEN IN BLACK™ Alien Attack™
This interactive ride has you zapping aliens (who zap you right back) as part of a Men In Black training mission. It's time to don the suits because you've just been promoted to an active agent!
Woody Woodpecker's KidZone®
Animal Actors On Location!™
This fun and outrageous show features video segments, live animal performances and audience interaction!
E.T. Adventure®
This fan favorite will have you riding your bike into the sky to help E.T. save his dying planet!
A Day in the Park with Barney™
Join everyone's favorite purple dinosaur, Barney, in this live sing-along show!
Curious George Goes to Town™
This great play area follows the steps of the entertaining and mischievous monkey!
Woody Woodpecker's Nuthouse Coaster®
Woody Woodpecker® owns a nut factory and it just so happens that this wild roller coaster takes you straight through it!
Fievel's Playground®
This unique oversized playground lets you get a mouse-eye-view of the world!