This one of a kind water park is just what Orlando has been waiting for and it's something only SeaWorld could bring you. Ever dream of floating on a river amid color fish and rolling rapids? How about slides and flumes that will spin you and soak you? The signature ride at Aquatica is the 2 awesome, enclosed tube slides that will send you speeding through a lagoon filled with playful, friendly Dolphins! With a gigantic double wave pool and a white sand beach, Aquatica has it all and the fun is endless.
The Aquatica water park is a fun-filled adventure for the whole family. Located by, and made by SeaWorld this park has won awards for being both clean and very entertaining. If you are looking for a water park in central Florida area, then go to Aquatica!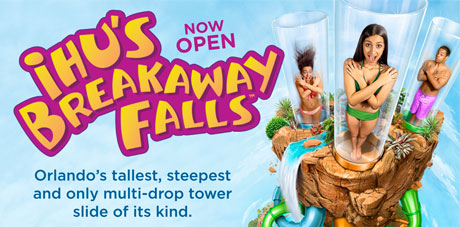 Ihu's Breakaway Falls™
Face your fears and each other on the tallest, steepest and newest multi-drop tower of its kind in Orlando, Ihu's Breakaway Falls. You'll never know who will drop first on this watery free-fall, but the one sure thing is that ride is going to be a wild one.
Omaka Rocka!
The all-new water slide, Omaka Rocka, thrills you with high-speed tubes and half-pipe tunnels that will have you splashing and sliding frontward and backward and climbing walls! This ride is brand-new and you'll find it only at Aquatica.
Cutback Cove & Big Surf Shores 
Is two massive wave pools that are side by side. Each varying in wave height and density there are is fun for the entire family inside the cove!
Kata's Kookaburra Cove
For middle aged kids to enjoy all the park has to offer in an environment built specifically for them! With slides that don't go to fast, and pools that don't get to deep this area is perfect for kids of younger ages! and parents concerned about their kids as well. In this area everyone's happy and everyone's having a ton of fun!
Loggerhead
Enjoy relaxing on the water? Loggerhead is a lazy river that encircles Tassie's Twister, enjoy a smooth flow of water for as long as you want as you relax on the offered tubes! So lay back and relax as you gently float on top of the water at your own pace as soothing music plays in the background. Or you can take it to the next level and have a splash fight with your friends when they least expect it. You choose the thrill on this ride!
Walhalla Wave & HooRoo Run
Are family friendly tube rides; with large circular rafts that will carry the whole family down massive slides or go through dark tunnels at incredibly fast speeds!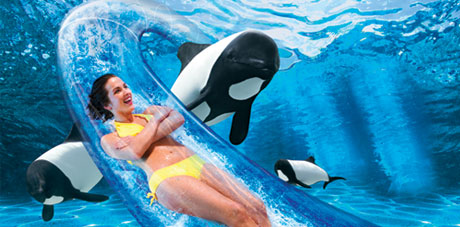 Dolphin Plunge
The park's largest and one of the guests' most favorite attraction this ride has two sliding tubes. Each tube begins as a dark tunnel as you make your way in and around loops, spins, turns and more and it automatically turns clear and goes directly through the dolphin tanks! Enjoy your speedy ride down under the water and out into the lagoon as the playful dolphins race alongside your tube and do flips along side you!
Taumata Racer
Are you the competitive type? Well we got a ride for you, this eight person ride places you on top of a mat as you battle your way down individual slides to the bottom of the steep hill, will you come in first? or will your competitors slide right by you? There's only one way to find out and that's to just do it! Be prepared for this ride that fascinates even the experienced speed seekers.
Tassie's Twister
Is boasted to be the parks most "whacky" ride, as you jump into a tube and spin in circles endlessly in a water spun bowl, and then tossed back into the Loggerhead lazy river. This ride is sure to leave your head spinning as you exit into the lazy river where you'll be able to relax your adrenaline filled body from this whacky adventure.
Walkabout Waters
Is a massive 15,000 square foot water playground for the kids! This huge area holds feature after feature of fun water filled activities and tunnels and pools. If you have kids, you will not stop hearing how much the kids loved this place!
Whanau Way
A major attraction at the theme park; this ride has 4 tubes that come off a large tower, each built a different way so that each time you enter, it wont be the same!