With two locations across Central Florida, Fun Spot is the place to be for a great time with the whole family. This highly lit up, exciting attraction features some of the hottest thrill rides, go-cart tracks, and games ever known to man. This place really is HUGE, which is part of the tagline for the company's motto. Everyone in the whole family will find tons of great things to keep themselves entertained for hours and hours. Ride the Skycoaster, or the Slingshot, as well as other high flying rides that will put your belly in your throat. Make your way around one of many go-cart tracks at either one of the locations. There are cars and tracks for every sized driver from the real young, to the older yet young at heart. With entertainment like this, it's interesting to think how video games and indoor activities can stay so popular! Save HUGE with Funspot ticket discounts.
If you are looking for an inexpensive day out, with or with out the children, Fun Spot is the place to be. Fun Spot is entertaining for guests of all ages. As you arrive the bold primary colors catch your attention. One great thing about Fun Spot is there is free parking and free general admission. For example, if you are a parent just bringing the kids out to play for the day, the children buy wrist bands to ride all the attractions, but you get in FREE. Upon entering the building, guests are greeted with a two story arcade. Downstairs there is a concession stand as well as an arcade that uses tokens where guests receive tickets to redeem prizes. To enter the arcade upstairs guests must buy a wrist band. This arcade includes unlimited access to numerous games, as well as classic arcade games and racing simulations.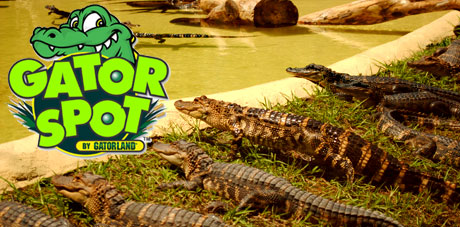 Orlando Rides
Gator Spot
Opened with GATORLAND®, the Alligator Capital of the World, and FUN SPOT AMERICA-ORLANDO THEME PARK opened a "JAWSOME" new 15,000 square-foot, reptile oasis inside Fun Spot Orlando–appropriately named "GATOR SPOT," presented by Gatorland. The $1 million attraction features more than 140 alligators of all shapes and sizes (including a rare leucistic "white" alligator-one of only 12 in the world)! Enjoy the company of exotic birds, snakes, lizards, two aquariums filled with baby alligators. Guests can also experience animal encounters during peak season throughout the exhibit at no extra cost.
White Lightning
Ride Orlando's ONLY wooden roller coaster, with this throwback to the days of Coney Island. Reaching speeds of up to 48 mph, it's not your grandfather's coaster, featuring one of the smoothest rides you will ever experience.
Freedom Flyer
Soar on the wings of this family friendly steel suspended inverted coaster with speeds of up to 34 mph. Whip through tight turns that spin you around and test your nerves with heavy G forces all while your feet dangle just above the crowds.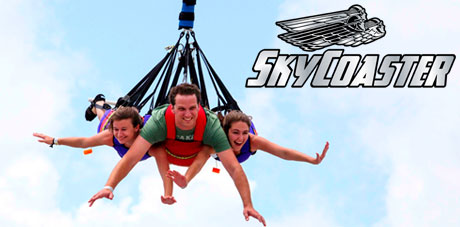 Kissimmee Rides
Skycoaster
For the ultimate thrill seeker! Ride in groups of up to 3 people as you take flight on the world's second tallest SkyCoaster at 300ft. Get a great view of the Disney area and experience the closest thing to jumping out of an airplane besides jumping out of a plane.
Rockstar Coaster
Take a spin on a wild mouse style type coaster that produces heavy G forces as you go around sharp and tight corners. With up to 3 people to a seat, your whole cart will be screaming!
Kissimmee GO-Karts
Vortex Track: This track is 4 stories high (40 feet!) and features the world's steepest banking curve at 32 degrees!
Chaos Track: One of our multi-leveled tracks, this one will have you coming back for more. This track has double-seat go-karts, so even younger children, while an adult drives, can enjoy the action of this multi-leveled track!
Slick Track: Drift and fishtail your way into 1st place! One of our faster tracks, this one will have you slipping, sliding and gliding all over the place.
Road Course: One of our faster tracks, this one will keep your race game on point with lots of twists and hairpin turns.