Medieval Times Dinner Show Tickets
Enter an 11th-century castle at Medieval Times Dinner & Theater and enter a world of sword fights, horsemanship and royalty. Enter the castle and admire the elaborate Medieval decor. You'll see a fantastic array of Medieval weaponry. You can see reproductions of torture instruments used in the Middle Ages when you enter the Museum of Torture. In the Ceremonial Arena, you'll be seated and have serfs and wenches attend your needs throughout the evening. You'll feast on a four-course dinner in true Medieval pre-silverware fashion. Watch as your knight participates in authentic jousting matches. After the show, you'll have the opportunity to mingle with cast members – maybe even meet your knight! Make your reservations now to be transported back in time!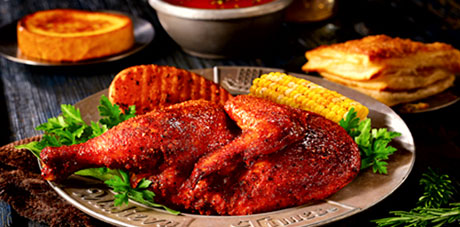 Enjoy a lavish meal fit for royalty at Medieval Times Orlando. This 4-course feast is served by our highly trained wait staff of wenches and serfs, rolling out your dinner with expert timing. And this feast is served "medieval style". That means there is no silverware. But don't worry, there are napkins galore.
King's Feast
Garlic Bread
Creamy Tomato Bisque Soup
Oven-Roasted Chicken
Spare Rib
Herb-Basted Potato
Pastry of the Castle
Select Non-Alcoholic Beverages
Vegetarian Meal
Hummus
Warm Pita Bread
Carrot and Celery Sticks
3 Bean Stew w/ Fire-Roasted Tomato and Brown Rice
Fresh Fruit or Italian Ice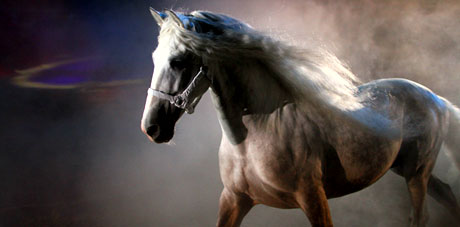 For years, Medieval Times has helped preserve the 1000 year bloodline of their Andalusian horses. Each spring, the staff at the Medieval Times adds several new Andalusian foals to its Orlando castle. The horses are known for their magnificent physique and gentle nature and are bred specifically for use in the seven Medieval Times dinner attractions across North America. These Purebred horses have a rare combination of strength, agility and the ability to follow detailed instructions. This makes them well suited for the mock battle field of the Medieval Times Dinner Theater.
During battle, the Knights of the Medieval Times have many different weapons to choose from with which to cause damage to their opponent.
The weapons are as follows:
The Lance – typically used in the joust, lances are used by the knights to try and knock an enemy knight from his horse. They are long poles (think pole vaulting pole) and they splinter and explode upon contact.
The Mace – a heavy weapon made from a wooden handle with a heave ball-shaped head made of steel. The mace would be used to crush the head or batter the armor of an opponent.
The Alabarda – a cross between a spear and a battle-axe. The foot soldiers would use these to keep the enemy at a distance. It is especially deadly because of the design. The extra hook would allow you to pull the weapon backwards to stab if your forward attack had missed its target.
The Bola – An awesome weapon. A wood handle connecting a spiked ball at the end of a chain. This allowed it to be used on foot or while riding a horse. Almost impossible to defend it became a whirling death machine if wielded properly.
Espada Sword – the short, one-handed sword used while riding horseback
Mandoble Sword – the longer and heavier, two-handed sword used on foot