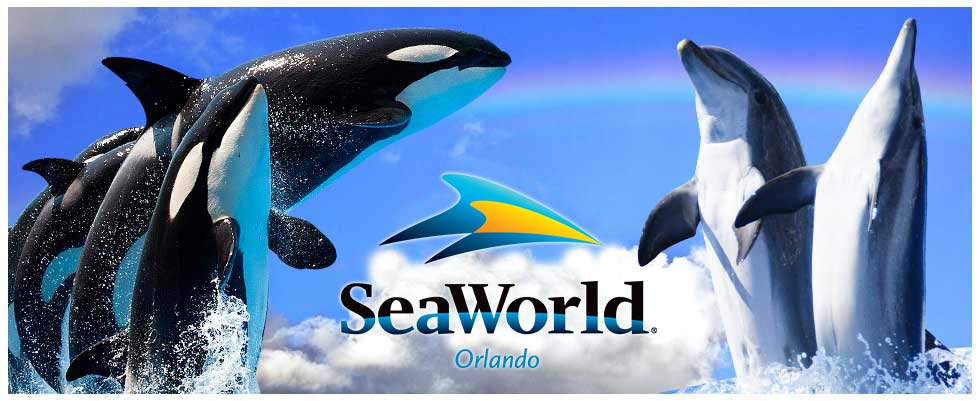 SeaWorld is like no other theme park in Orlando. You'll find one-of-a-kind rides, shows, and its the only place where you'll find Shamu, the Killer Whale. SeaWorld is also the one and only theme park in Orlando that emphasizes education as much as it does entertainment. So, when you bring the kids along, they're going to have fun and learn something new at the same time. You can call it a "sneaky education". SeaWorld Orlando is the premier aquatic theme park on the planet. Thrilling rides, world class shows, and a collection of marine-life like no other encompass the 199 acres of land that make up SeaWorld. The number of visitors that have experienced the enlivening rides and once-in-a-lifetime animal encounters have hit the millions and that number is climbing. Come on and find out for yourself what millions of people already know: SeaWorld is a must see.
Come see Shamu and friends at SeaWorld Orlando and enjoy all the spectacular shows, events, and latest rides.
SeaWorld Orlando Rides
Antarctica: Empire of the Penguin
As one of the coldest attractions ever to be conceived, guests explore Antarctica through the eyes of a penguin named Puck. This realm has a signature attraction that is a trackless, motion-based simulator, family thrill ride. Guests also have the ability to choose what type of experience they want to have, either "wild" or "mild".
Turtle Trek
The Turtle Trek attraction transports guests into the day in the life of a sea turtle, in a way never seen before. Daring guests will meander about a pair of aquariums, including manatees and sea turtles. Later, the journey will carry then into a one-of-a-kind, state-of-the-art, domed, 3-D theatre. Starting from her nest, the movie will follow the life of a female turtle. Sudden encounters with other animals will appear as well as shipwrecks and dangers. Using 3-D imaging to create a type of holographic image of sea turtles, guest will explore a new world of what SeaWorld dubbed, "hyper-real" CGI, where these turtles will appear to swim about guests.
MANTA: Ride the Flying Ray
One of SeaWorld's most adventurous creations is the Manta, where park goers "Ride the Flying Ray." Riders let their feet dangle as they sit four to a row, seconds later they're face down hovering about 6 feet above concrete awaiting to climb the first hill. As you least expect it you are sent head first downwards down the big loop, which is only the first part of the ride. The second half of the ride displays more close encounters with water, structures and even a waterfall. Throughout the ride the scenery is constantly changing from sky to trees to waterfront to wall and finally to the blue metal landing zone.
Kraken
There is an ancient myth that the great Sea-God Poseidon had a monstrosity caged deep within a watery prison. But how can you call it a myth when people are taken to heights of a 15-story building and dropped just as deep, at speeds reaching 65 mph, on a daily basis? The monster has been un-leashed at SeaWorld Orlando! Come and find out what it feels like to ride the longest, tallest, and fastest coaster in Orlando!
Journey to Atlantis
Part water-ride, part roller-coaster, Journey to Atlantis will take you for a ride like no other in Central Florida. You are guided through the depths into the sunken city of Atlantis by a magical sea-horse. However, the spirits who guard the city not only want you to visit the city, they want you to become permanent residents! Escape from their grasp by daring twist and turns on high speed rails, and taking the plunge down a near vertical, 60-foot drop!
SeaWorld Orlando Shows
One Ocean
This new and exciting show brings the world of the sea to life in an incredible way! With amazing choreographed stunts you can watch these amazing whales and their trainers perform feats you never thought possible! The One Ocean show introduces you to the dangers the ocean is currently facing, and ways you can help stop the destruction of these endangered habitats.
Blue Horizons
Uniting visions of Broadway with both sea and sky, this breakthrough show opens up a whole new genre of entertainment. A spectacular that includes a rainbow of exotic birds, dolphins, false-killer whales, and a cast of aerialists and divers bring to life the vivid imagination of a young girl.
A' Lure the Call of the Ocean
The tale of Sea Sirens, with their hypnotic calls, comes to life with a breathtaking, mystical show at SeaWorld's Nautilus Theater. A' lure is a non-traditional circus that combines high-flying acrobatic performances, amazing silk yo-yo artists, aerial tumblers, dramatic music and fantastic special effects within a spectacular set themed as an underwater fantasy world.
Clyde and Seamore
A swashbuckling adventure awaits you … featuring a sensational tale of lost loot, pirate plunder and misadventure on the high seas. Get your SeaWorld Tickets at a discount with us today! A SeaWorld Orlando animal trainer and his first mate, Clyde the sea lion, pal around during the new sea lion and otter show, Clyde and Seamore Take Pirate Island.