Sleuths Mystery Dinner Show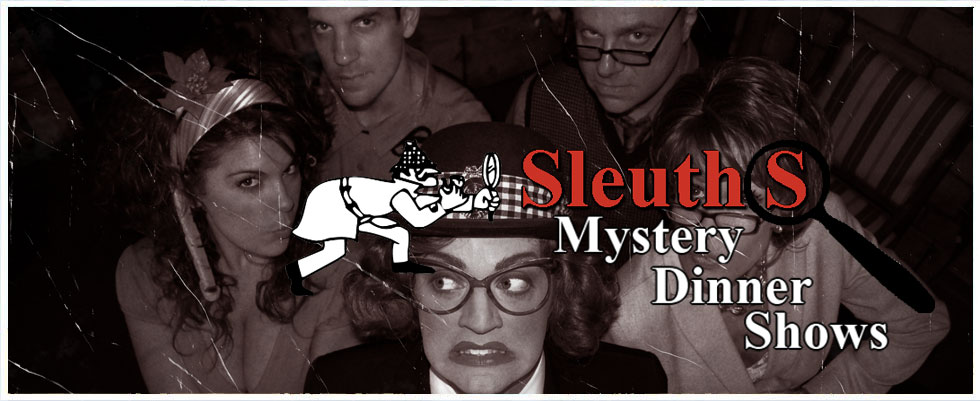 Are you looking for a good time that requires a bit of investigative inquiry and an appetite? Then you'll need to check out Sleuth's Mystery Dinner Shows, Orlando, Florida. No other Orlando Dinner show gives you as much variety as the Sleuth's Mystery. The show performers themselves put on 13 different performances throughout the month. Although each show is unique, they all have a common theme: there's always a mystery to be solved! Whether there's been a murder or a treasure to be found, the Sleuths need your help! And you'll have a hilarious time providing the assistance.
But the show isn't the only thing that comes on your ticket, there's also the dinner! And it is a full three-course dinner at that. There are also appetizers in the main lobby while you're waiting to go in. Assorted crackers with signature cheese spread, fresh greens salad, dinner rolls and some sort of pimento type wrap. Free coffee is available while you wait if you ask at the bar. Sherlock Holmes is wandering around and playing his character to the max during this time as well. You'll have three choices for your entree which is served to you during the show.
Sleuths Dinner Menu
Honey glazed Cornish hen with herb stuffing, vegetables, sweet potato and cranberry sauce
Four cheese lasagna (with or without meatballs), vegetables and garlic bread
Prime Rib dinner (for an extra fee) which comes with vegetables and baked potato
Each Mystery show lasts about 2 hours and a half. Be ready to participate because the Sleuths really do need your help to solve the mystery. Just have your eyes open for anything out of the ordinary or suspicious.
Sleuths Mystery Dinner Show Descriptions
Here are the shows that play nightly throughout the month at Sleuth's Mystery Dinner Shows. The shows vary from night to night so you'll want to call ahead if there's a particular show you'd like to participate in. But I'd suggest just taking a chance on whatever happens to be going on that night. You'll enjoy any of them:
Lord Mansfield's Fox Hunt Banquet
Lord Mansfield has invited you, the nobility, to his Mansion. But, there is something aloof in the Lord's kitchen. Someone has met their end! Look past the treachery, lies, and magic and help solve this crime!
Squires Inn
You have been touring the northwest England countryside, but your tour bus has broken down and you find yourself in the quaint country village of Clifton at a small inn. The Squires Inn welcomes you and offers you a free meal and lodging for the night. The aggressive owner will do anything, and we mean ANYTHING, to keep you there. Be prepared for the unexpected. Your tour guide discovers they have a close relative in the Inn. An old pensioner has been hiding a treasure that once belonged to Mary, Queen of Scots. This zany show will have you DYING of laughter.
The Premiere
Discover the culprit who commits a horrendous crime on the opening night of a multi-million dollar movie. You are invited to the opening night of a fantastic new movie production. Well, at least Jeremy, the director of this movie, believes that it is some magnificent cinematic creation. He's the ONLY one. There is a lot of pressure on Jeremy for this film to be successful. Oil tycoon Henry Beaumont has invested millions in hopes that his hot niece Nicki will become famous actress. Watch for celebrities at this movie extravaganza, but also watch for clues because someone will commit an unspeakable crime. Who could be the criminal in such a setting
Kim and Scott Tie the Knot
Kim and Scott are getting married. Serious questions arise: Did the new bride Kim murder her first husband? Has groom to be Scott been trading computer software secrets for precious gems? The families of both try to protect these upcoming newlyweds from each other in this bawdy spoof of an Italian wedding gone all wrong.
Roast 'em and Toast 'em
There is a roast being held in honor of the Margaret Petrovich, the notorious wife of the Premiere of Slovaria. Help discover Margaret's hidden intentions. Meet Arty, a fun-loving agent, who secures famous celebrities for speaking engagements around the world. As head of this Elite Celebrity engagement Agency, he and his zany crew are throwing a roast for Margaret Petrovich, infamous wife of Slovaria's Premiere. What is Margaret's true agenda? Help Police Sgt. Pruitt solve a crime that may be one of intrigue or perhaps a crime of passion. If so, who is the passionate one?
The Reunion
You're invited to a college alumni reunion where one of the graduates wants to tear down the Academy. The other students setup a fund-raising event to help save the school but the good deed ends in murder. Your attendance at this alumni reunion for Luray Academy is requested and desperately needed. It is extremely important! The survival of this liberal arts college is at risk. One of the graduates, Lilah Beauregard, wants to destroy the college and set up high dollar condos. She must be stopped! Organizers of this class reunion are planning a giant gala to raise money in defense of saving the school. However, the evening does not go as planned. The band that is scheduled to perform winds up in jail, secret relationships past and present are revealed, lies come to the surface, and ultimately the event ends in murder. Come help save the Academy and find out if Lilah's plan is squashed.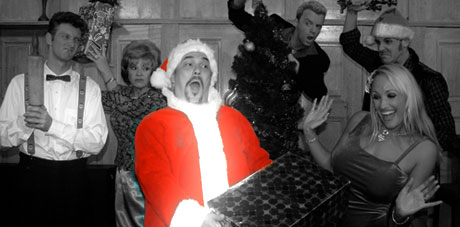 Holidaze
Come celebrate the Annual Hillendale Holiday Pageant with Mayor Rockwell and this quaint little town's citizens! You'll compete for fame and fortune on the reality TV show that chronicles the annual event. But be wary, contestants will do anything (and I mean ANYTHING) to win.
WKZY
Bid farewell to WKZY's on-air-shock-jock Howard Stern wannabe Tipton Ramsdale as he heads off to the universe of Satellite Radio where there are no boundaries to keep him from being as foul and rowdy as possible. Helen Parker, the station manager, has her hands full with press and law as she prepares to introduce her new star, the infamous and dangerous Dolly, to her listening audience. Meanwhile, Helen's sister Ginger is looking for love in all the wrong places, and Bill Borden, Tipton's faithful side-kick, is about to be launched into the stratosphere on his own. So, come join the lunacy and misadventures of the WKZY's "The Tipton & Bill Show."
The Show Must Go On
There is an internal conflict within international touring company. The director, producer, and owner all want a say on how the show goes but not one gives any leeway. The conflict heightens in a murder covered up by the director. Auditions are being held for an international WAY off Broadway company. The production attracts both older seasoned performers and young wannabes, and the company's director must decide who will be part of this touring menagerie. To complicate matters, the producer and the owner both want to be the alpha male. This show within a show climaxes with a murder and the director's makes a DRAMATIC decision to cover it up. Hilarious!
The Echo Project
The Echo Collar is going to be Purr4mee's latest and greatest power product. Vivian Schroeder is the head Marketing Director at Purr4mee and she's invited you and rest of the Sales Team to help launch the product. The company's future hinges on the success of the Echo Collar and heads will roll, LITERALLY, if it fails.
Joshua's Demise
Joshua Langden died mysteriously last year and you are invited to his funeral. You have been invited to a memorial service for Joshua Langden. In attendance is his widow Trish, brother Brett, cousin Charlotte, and mother Liza, who who has brought along her faithful Indian soothsayer, Mapewi. Liza is convinced that her son Joshua's death was not an accident and she has arranged to speak with Joshua on the other side. What will Joshua and the Indian's psychic abilities reveal?
G.K.'s 80th Birthday
It's Gerald Keenan's 80th birthday and he's changing his will, but a certain someone thinks otherwise. Find out why G.K. isn't going to see his 81st birthday. His friends and family have been invited to his 80th birthday party. He informs all of them that he intends at that time to change his will. Mingle with sexy Nurse Faber, Mr. Chen, and Mr. Keenan's money hungry relatives, watch for anything suspicious going on, and then you get to interrogate these outrageous characters to gather other clues and compare your thoughts with what everyone else in the theater might have noticed. Help find out who made G.K.'s 80th birthday his last.